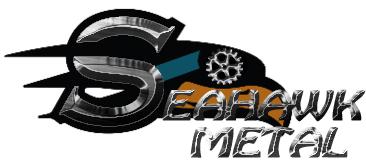 In pieces we fall, through metal we rise.
The Engineering department is proud to host the second year of its Robotics Program! Open to students of many talents, the club is aimed to design and program fully functional Robots for the purpose of entering the competitions of VEX and FRC, and is oriented around both the engineering and business aspects necessary of these challenges.  With a non-profit nature, our team is dependent on the gracious donations of sponsorships. If you are interested in helping us in this manner, please take a glance at our sponsorship packet.
Interested in our team? Find all the information you will ever need at our website here.
 Find updates on our club through our Twitter and Facebook.
The team has just finished with its handbook for the 2013-2014 season. Feel free to view it by clicking here.
The Seahawk Metal team are currently sponsored by Rasmussen College and INTERA Engineering
2013-2014 Leadership
Team Lead –  Adam Tara
Communications Lead – Ryan Saunders
Treasurer – Carly Evans
Club Promotion Lead – Alexus Jones
Programming Lead – Nick Kroft
Build Lead – Robert Llewellyn
Chief Game Analyst – Tyler Medhaug