Student Attendance will be kept using the eSembler computer system.  Training will be available during pre-planning week upon request.  If you feel you need training, please contact the Assistant Principal for Student Services or your mentor.
RULES OF SCHOOL ATTENDANCE
Students, regardless of age, need to attend school on a regular basis. Parents should notify the school of a student's absence and the reason for the absence as soon as possible. Parents will be advised if their child is considered truant. A referral will be made to the school social worker and/or an SSAP Teacher if a student is chronically truant.
Students are required to bring a note to excuse their absence from school within two (2) days of their actual absence.  The note must contain their full name, student number, phone number, date and reason for absence and be signed by a parent or guardian.  Upon their return to school, the student will turn in the note to the attendance basket located in the Guidance office between 7:15 am and 7:30 am each morning in order for the absence to be excused. The following are acceptable reasons for student absences:
Illness of student.
Major illness in the immediate family of the student (immediate family is determined as parents, brothers, sisters, grandparents, aunts, uncles, legal guardians or persons in loco parentis, or a member of one's own household).
Death in the immediate family of the student.
Religious holiday of the student's faith (including: Yom Kippur, Rosh Hashanah, Epiphany).
Religious institutes, conferences, or workshops, provided that the principal approves the absence in advance.
Absences for trips or other parental requests as judged appropriate for the student by the principal, provided that the requests are approved in advance.
In-School and Out of School Suspension.
Subpoena or forced absence by any law enforcement agency, provided that the student is not under immediate suspension from school. A copy of the subpoena or court summons must be presented to the principal.
For purposes of attendance, school related activities will not be counted as excused absences from class.
In the case of excessive absences*, upon request of the principal a parent will provide documentation (doctor's statement) of a student's illness.
The Florida Legislature has enacted F.S. 1003.27(1) that minors (ages 14-17) satisfy school attendance requirements in order to apply for or maintain their driving privileges. The principal will notify the District School Board of those students who accumulate 15 unexcused absences in a period of 90 calendar days. The school designee is then required to submit to the Department of Highway Safety and Motor Vehicles (DHSMV) the names of the students along with their date of birth, sex, and social security number. (For the purposes of maintaining the right to drive, days of suspension from school will not be forwarded to the DHSMV as unexcused).  If a student's name is sent to the DHSMV for lack of attendance, then the student is in danger of having the current privilege to drive suspended, or for students who are under age 16, having their application for licensure denied. Hardship waiver hearings will be available in cases where the driver has been notified by DHSMV that the license will be suspended. Following a license suspension by DHSMV, the driving privilege may be reinstated if the student submits written verification to DHSMV that the student has completed 30 days of attendance in school without an unexcused absence.
DISTRICT ATTENDANCE POLICY
If a student has unexcused absences in 3 or more periods a day in five or more days, or 5 unexcused absences in any one course within a quarter or ten (10) unexcused absences in any one course within a semester, the student may:
1.      Lose the privilege of participating in extracurricular activities.  These include but are not limited to dances, special events, club activities and participation in athletics, until the end of the following grading quarter.  
2.      The privilege to drive to campus may be revoked until the end of the following grading quarter. If this occurs during the fourth quarter of the school year, the privileges could be lost for the first quarter of the following school year. The principal or designee may review extenuating circumstances resulting in a loss of privilege(s).  The Principal's decision is final.
3.      Have their name submitted to the Department of Safety and Motor Vehicles (DHSMV). The student will then be in danger of having the current privilege to drive suspended, or for students who are under age 18,having their application for licensure denied.  (Please see Driver's License Law section, which follows)
Florida Statute 1003.26
The principal and or his/her designee may address extenuating circumstances brought forth by the parent or guardian.  The principal's decision is final.
School attendance and active participation in class are extremely important to learning and success in making good grades.  Class time will be used for current instructional purposes and teachers will be available before and after school for those students in need of make-up instruction. Excused absences guarantee students the right to make up work at full credit.
The student is responsible for making arrangements, within two (2) days after returning to school, to meet with the teacher before or after school, during lunch, or at a time agreed upon by both parties in order to receive instruction, missed assignments and make-up tests. The teacher shall specify a reasonable period of time for completion of make-up work. In no case shall the time be less than one full calendar day for each day missed.  If the teacher would like students to come to their classroom during lunch, the teacher needs to write a pass for each student to leave lunch that is only good for that day.
ATTENDANCE PARKING POLICY
Parking passes will not be sold to students with excessive unexcused absences.  Also students with more than six unexcused absences from class within a quarter may loose their parking privilege.  They may regain the parking pass at the end of the next quarter provided they have missed no more than six days within that quarter. Students with excessive absences will not be allowed to attend or participate in extracurricular activities, such as homecoming, prom, powder-puff, athletic teams, club days, and other SRA that could require missing school.
DANCE ATTENDANCE POLICY
Students who do not attend Sunlake High School may attend a dance sponsored by Sunlake High School provided if a security review is completed and approved by administration and the SRO.  Forms will be made available at least one week before the dance tickets go on sale and should be completed by the student requesting to bring the non-SLHS student.  The form must be complete and it must be turned in no later than three day before the last day of ticket sales in order to be approved.  Dance sponsors are responsible for advertising this policy and for the distribution of the forms before ticket sales may begin.
TARDY POLICYAll students must be in the classroom when the bell finishes ringing. Students who are not in class by the time the bell finishes ringing should be sent to the Tardy Table for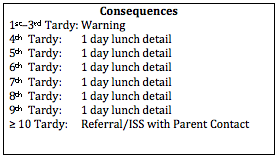 a pass. They should return to class in no less than three minutes. Teachers should write passes for students who are legitimately late to their next class. Under NO circumstances should a student be let into class without a pass of some sort.
Each teacher should record all tardies on eSembler. If the student was recorded absent this should be corrected to a tardy.
When students are late to school and check in through the front office, their tardy is recorded and a pass will be issued.  Reasons for excused tardies can be found in the Code of Student Conduct section of each student's Pasco County Planner.
All students will receive consequences upon being tardy (either at the Tardy Table or in the Front Office) based on the above chart.
If a student arrives late to school, before 7:45 am he/she reports to the tardy table, after 7:45 am he/she reports to the main office, to sign in on the sign-in form and obtain an admit slip.

If it is necessary for a student to check out of school early, he/she must secure a Check-out Form from the Main Office before school.  The student will be given a checkout form that will indicate whether or not the early dismissal is excused or unexcused according to the Student Code of Conduct.  The form then must be taken to the Front Office and the appropriate information entered on the checkout sheet.  Checkouts due to illness will be handled through the clinic.  Students must attend the entire day to participate in extracurricular activities that school day.  If a student must be absent due to an emergency or a doctor appointment it must be cleared with the Athletic Director.