Counselor
Appointment
Click here to schedule an
appointment with your 
guidance counselor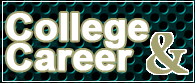 Learn more about planning
for life after high school.
Sunlake High School's Student Services Department offers a range of services to assist our students in meeting their academic, career, and social-emotional needs. Students may request an appointment with their counselor by completing a School Counselor Appointment Form online.

Don't miss out on this opportunity to unlock your potential and transform you dreams into reality by applying for the Pasco Education Foundation Scholarship Program.  Application window is from December 1, 2023 to January 31, 2024.